Travel to Parma
Parma is in the Region Emilia –Romagna, between Bologna and Milan. Both cities have international airports. Parma itself has a small airport with domestic and few international flights; however, we recommend international participants to plan the travel considering the following airports:

• Bologna (airport shuttle + train to Parma is about 1,5 hours)
• Milan-Linate (about 2 hours)
• Milan-Malpensa (about 3 hours)
• Milan-Orio al Serio (about 3 hours)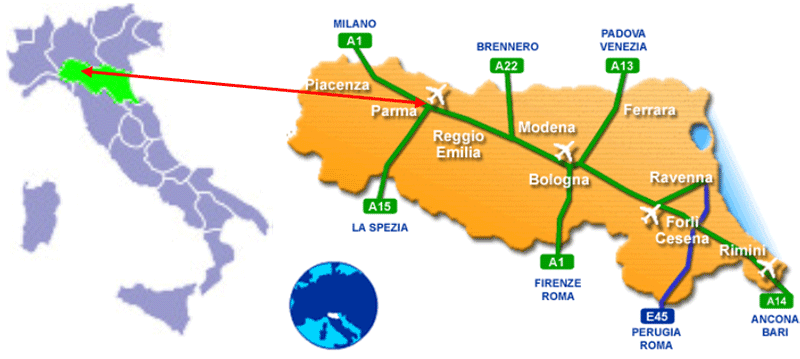 Parma can be also reached by car (closest highway exit are "Parma" on A1 and "Parma Ovest" on A15) or by train (check Trenitalia website for train schedules).
Connections to Naples (for ICCGE20 conference)
Participants who after ISSCG-18 wish to attend the International Conference on Crystal Growth and Epitaxy in Naples are advised to travel by train. The journey lasts 5-6 hours including connections in Bologna and Rome and most of the the fares range between 45€ and 60€. Participants may also decide to make a stop-over in Florence or Rome for a short visit of the city. There is also a night train from Parma at about 11pm, with arrival in Naples at 8:45 am (fares are variable depending on accommodation: seat, couchette or sleeping wagon).
For information and tickets please check Trenitalia website.
There is also the possibility to fly to Naples from Bologna or Milan (approx. one-hour flight, frequent flights) that might be convenient in case of round trip (for example: home-Bologna-Naples-home). Attendees of both ISSCG and ICCGE are invited to explore this possibility.